Infinite Dances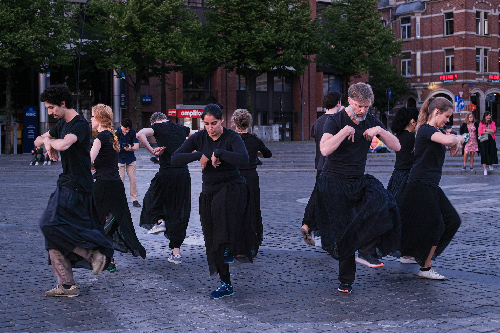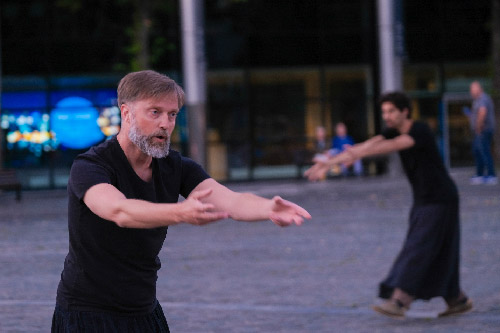 Infinite Dances is a dance between finiteness and infinity. Confronted with death, I wondered how we can create physical forms of commemoration? Finiteness is emphasized by infinity: the movements that never stop, the breath that goes on, the stories and symbols that are handed down. Thus, the dance simultaneously evokes the coming and going of life. The physical becomes spiritual, the bodies become ghosts.
(Michiel Vandevelde, about Infinite Dances)
Mourning alone is hard, but in a group it is just as fragile. Yet we find support and comfort in collective commemoration rituals such as The Last Post, the laying of a mourning register or monuments to honour the dead. They serve the community. They connect.
With Infinite Dances, Vandevelde creates a hauntingly beautiful and dance-like ritual. The dance is based on three videos, which Michiel inherited from his mother, on which she dances.
Inhabitants of Leuven perform the dance every month for all passers-by. For a year, they dance every last Monday of the month on the Grote Markt in Leuven.
Presentations
:
Every last Monday of the month, at sunset.
— …
— 29 May 2023 at 21:15
— 24 April 2023 at 20:35
— 27 March 2023 at 19:40
— 27 February 2023 at 17:55
— 30 January 2023 at 17:00
— 26 December 2022 at 16:10
— 28 November 2022 at 16:10
— 31 October 2022 at 18:00
— 26 September 2022 at 19:05
— 29 August 2022 at 20:10
— 25 July 2022 at 21:10
— 27 June 2022 at 21:40
Credits

2022 / Concept and choreography: Michiel Vandevelde Dance: Inhabitants of Leuven Rehearsal directors: Robson Ledesma, Amanda Barrio Charmelo, Samuel Baidoo Coordination: Christel Dusoleil (30CC) Production: 30CC, Disagree. Vzw Commission: 30CC Thanks to: Veerle Van Schoelant, Stad Leuven