Dances of Death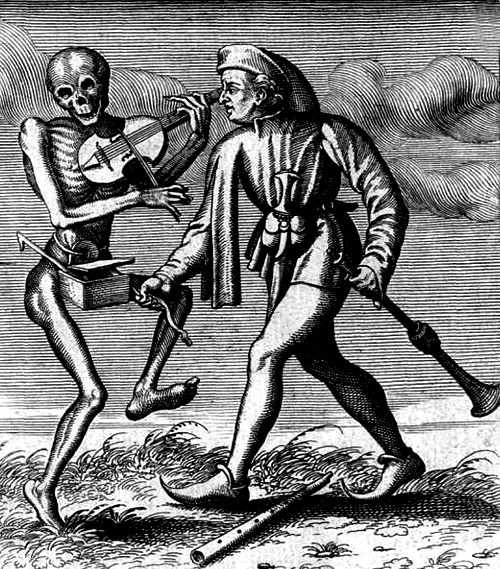 The 'dance of death' or 'Danse Macabre', originating in the 14
th
century, has been an ongoing theme throughout Western culture. Together with five dancers, choreographer and curator Michiel Vandevelde, looks into different dances of death, sourced from paintings, pictures, music and videos.
In the 21
st
century the notion of 'death' is yet again very present, new incurable diseases are haunting us, suicide rates are yearly increasing, climate change calls upon images of apocalypses. How can we cope with the idea of death? It's an age-old question that always expands together with the increase of knowledge. In 'Dances of death' however the quest is to physically cope with death through dance. How would a dance of death be danced today?
Presentations
:
— PREMIERE: 4 & 5 December 2020, December Dance 2020, Magdalenazaal, Brugge (BE)
— 3 & 4 March 2021, Kaaitheater, Brussels (BE)
— July 2021, outdoor version for Dansand, Ostend (BE)
Other dates soon.
2020 / Choreography: Michiel Vandevelde Dance: Amanda Barrio Charmelo, Julia Rubies Subiros, Samuel Baidoo, others tbc. Costumes: Heide Vanderieck Dramaturgy: Esther Severi Production: Disagree. vzw Financial Management: Klein Verzet vzw International Distribution: Something Great Co-production: Concertgebouw Brugge, Kaaitheater, Kunstenwerkplaats Pianofabriek, KAAP, PACT Zollverein Residencies: Dans in Brugge, Kaaitheater, Kunstenwerkplaats Pianofabriek, CC De Factorij With the support of: The Flemish Government