Human Landscapes — Book II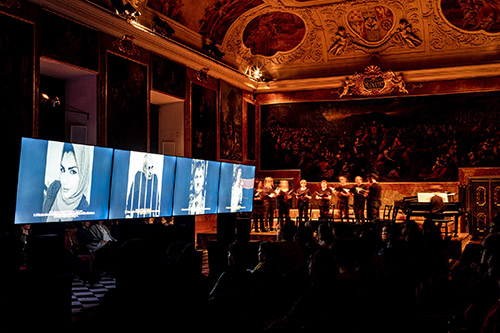 Where is the world headed?
Where are people going?
To understand that,
we have to know where we've come
from and where we are.

(Human Landscapes from my country -
Book II, by Nazim Hikmet)
Contrary to the staging of book I there are no actors physically present for the live version of Book II, they became voices, absent bodies, ghosts from the past, resonating through the theatre space. On stage: an old choir staring back at us.
Book II starts off in the first class of a train. Rich people, - politicians, traders, businessmen-, converse in the dimmed light of candles about their past, about the histories that haunt them and about the looming war. Old workers songs sung live by the choir juxtapose these stories.
Presentations
:
— PREMIERE: 21, 22, 23 September 2019, steirischer herbst, Graz (AU)
— 29 & 30 November 2019, Kaaitheater, Brussels (BE)
2019 / Text: Human Landscapes from My Country—book I, by Nazım Hikmet Direction, set, images, sound: Michiel Vandevelde Voices: Lois Brochez, Maarten Degraeuwe, Begüm Erciyas, Anna Franziska Jäger, Bryana Fritz, Stine Sampers, Jeroen Van der Ven, Michiel Vandevelde, Mitch Van Landeghem Choir: Vocalforum Graz, Brussels Brecht-Eisler Choir Dramaturgy: Kristof van Baarle Sound engineer: Wederik De Backer Technical support: Bregt Janssens Graphic design: Ward Heirwegh Financial Management: Klein Verzet vzw International Distribution: Something Great Surtitles: Handan Özbas-Uysal Residencies: Kunstenwerkplaats Pianofabriek, Kaaitheater Commissioned by steirischer herbst '19 Produced by steirischer herbst in coproduction with Kaaitheater (Brussels) Supported by Flanders State of the Art