Antithesis,
the future of the image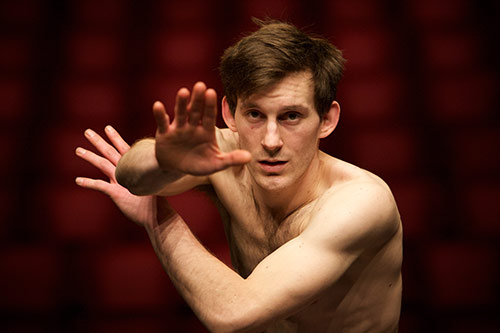 How do edited and manipulated images shape our gaze on the world?
Through the course of history, the role of written language has shifted: in the last decades (technical) images have increasingly taken the lead as the most powerful means of communication.
'Antithesis, the future of the image' asks the following questions: What are images? What is the future of the image? And what consequences might this have on the public sphere? The piece proposes some theses and antitheses around these questions. The result is a performance where projected text battles against danced images and rearranged pop music. A literary-youtube-dance performance.
The performance is based on the principle of 'reappropriation': the reuse of certain pre-existing materials. The dance and music refer to popular video clips and pop music, the pictures refer to a publicity trailer of Levi, and the text consists of citations from philosophical and political texts.
Today, the public sphere is under pressure. As numerous images, words and ideas are being misused in function of financial profit, it is time to take things back. To reappropriate them by embodying them and by doing so, formulate a proposal for an alternative, transformed image culture.
Presentations
:
- 16 January 2018, 20h, Theater aan het Vrijthof, Maastricht, NL
Info & tickets
- 30 March 2017, 20h15, CC de Werft, Geel, Belgium
Info & tickets
- 7 March 2017, 20h30, Corrosia, Almere, Netherlands
Info & tickets
- 20 February 2017, 20h30, Stadschouwburg, Utrecht, Netherlands
Info & tickets
- 9 September 2016, 20h30, De NWE Vorst, Tilburg, Netherlands
Info & tickets
- 5 September 2016, 19h00, Het Nederlands Theaterfestival, Amsterdam, Netherlands
Info & tickets
- 29 August 2016, 20h00, Het Theaterfestival, Antwerpen
Info & tickets
- 22 August 2016, 20h30, Maandagvariaties, Veurne
Info & tickets
- 27 May 2016, 21h30, Sale Docks, Venice, Italy
Info
- 10 & 11 February 2016, Something Raw festival, de Brakke Grond, Amsterdam
Info & tickets
- 5 & 6 December 2015, Le 104, Paris
Info & tickets
- 21 November 2015, 20.00h, Het Bos, Antwerp
Info & tickets
- 17 & 18 September 2015, 20h30, Kaaitheater, Brussels
Info & tickets
- 19 & 20 March 2015, Vooruit, Ghent in the frame of the (Im)possible futures festival
Info & tickets
Extra texts:
the programme leaflet
and
a reflection
by Rita Natalio.
2014
/
Creation and dance
: Michiel Vandevelde
Feedback
: Dries Douibi
Graphic design
: Ward Heirwegh
Technique
: Menno Vandevelde
Text
: Adam Curtis, Vilém Flusser, Jean-Luc Godard, Victor Hugo, Aldous Huxley, Neil Postman, Jacques Rancière, Anna Siegel, Michiel Vandevelde, Kristof van Baarle
Production
: Disagree. vzw
Coproduction
: Vooruit, in the frame of the European network DNA (Departures and Arrivals).
Co-funding by
: the Creative Europe Program of the European Union
International distribution
: Something Great
Financial management
: Klein Verzet vzw
Residencies
: Bains Connective, Het Bos, Vooruit and workspacebrussels